Roller blinds
Fabric blinds
This section of our website is dedicated to roller blinds or, as they are also called, fabric roller blinds.
Section content:
1) The main types and principles of difference between curtains.

2) What to be guided by when choosing curtains.

=====================
How are roller blinds arranged and how do they differ from each other.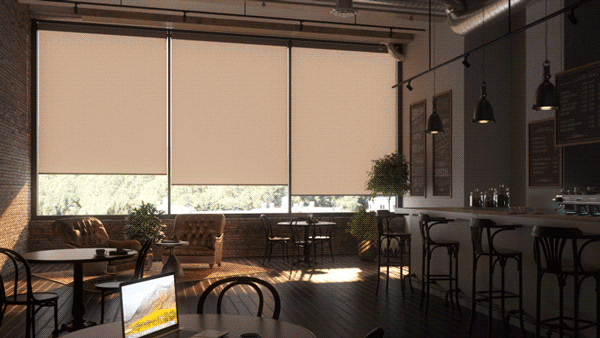 Roller blinds are products in which the fabric is wound onto a shaft located at the top, into a roll. The rotation of the shaft is regulated by a chain mechanism, which is attached with brackets to the plane of the window. For uniform folding and unfolding of the fabric at the bottom of the curtain, the fabric is threaded into a special metal bar.
See the same scheme in more detail with a decoding of all the details on this page.
Curtains come in open and closed systems.
In closed systems, the shaft with the fabric is hidden in a special box that prevents the curtains from getting dirty.
On the sides of the curtains, two aluminum guides are attached to the window - flat strips. Depending on the color of the window profile, the box and guides can be white or brown.
The curtains also differ in shaft diameter. Curtains with a shaft diameter of 17-19 mm are suitable for ordinary or small windows. For wide windows and openings, products with a shaft diameter of 25 mm or more are installed.
To ensure long-term reliable operation without breakage, wide roller blinds are usually mounted on metal brackets.
In order to prevent sagging of the curtain fabric (for example, in the window ventilation mode), various fixators of the lower bar are used. These can be special buttons, side plastic fixing brackets, magnets or fishing line. In closed systems, side guides serve as clamps.
Sometimes, systems of two types of fabrics are installed, one of which is in the form of translucent tulle, for daytime use, and the second is made of "blackout" fabrics for complete blackout.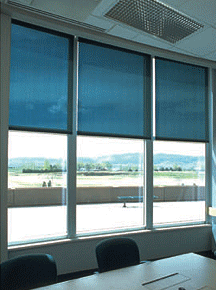 If desired, the edging of the curtains is performed. But systems with edging of the lower bar are now almost never used for practical reasons. The edging usually loses its shape over time and is subjected to more intense pollution than the fabric itself, which aesthetically unfavorably affects the overall perception of such curtains.
There are hundreds of different types of fabric, from sheer tulle fabrics to heavy blackout and aqua fabrics. The principles of fabric selection are discussed below. But besides the usual ones, there are also "day-night" or "zebra" curtains.
In them, the fabric consists of alternating strips of different densities, which, by overlapping each other, can regulate the luminous flux into the room. Stripes can be of complex shape, waves, zigzags. There are systems with round holes.
Curtains "day-night" are very effective and functional, but they are not without some shortcomings, which we talked about in this article of our blog "Interesting about blinds and not only ...".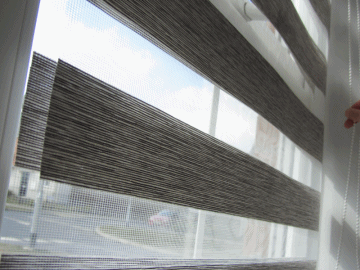 Well, in the end, we'll tell you more about rare roller blinds in which bamboo or jute fabrics act as fabric.
Such curtains are suitable for summer verandas, large darkened gazebos, beach complexes where shade is required and at the same time some kind of air movement is desirable.
The canvases in such curtains are collected either in a roll around the bottom bar, or in folds, using the "accordion" method, as in Roman blinds.
Next, we will take a closer look at how to choose roller blinds.
=====================
Which curtains are suitable for your windows.
When choosing curtains, first of all, they pay attention to the intensity of the light flux into the room, the location and shape of window openings, and the details of the interior of the room.
In this regard, fabrics of various throughput and shades are selected. Choose a system: open or closed.
For shaded rooms, light, thin fabrics are better suited. And vice versa, thick opaque curtains should be hung on the windows of the south sunny side or the first floor.
If you have small windows and you plan to hang curtains in addition to fabric roller blinds, then it is preferable to place curtains separately for each window sash, made according to an open system of 19 or 25 shafts. When closing a window opening or for large panoramic wide windows, systems with a shaft diameter of 30 mm or more should be used. To ensure complete blackout, closed systems are used. For a diagram of such a curtain, see in this tab of this site.
Bathrooms can be closed with curtains made of water-repellent materials - PVC (polyvinyl chloride), synthetic jacquard, polyester fabrics with the addition of fiberglass, less often bamboo and straw.
If you want your interior to be truly unique, order roller blinds with photo printing! Printing on curtains is possible for fabrics with a white dense base. And one more requirement - the high quality of the applied image, not less than 2500 dpi.
=====================
What needs to be done to make the curtains last long and trouble-free.
Due to the excellent performance characteristics and trouble-free operation for a long time, care for roller blinds comes down to regular dry cleaning of dust, in closed systems - periodic cleaning of the box and guides with a damp cloth.
Cleaning from dust and small stains is possible without dismantling the fabric and is carried out with the help of brooms and brushes. If you have a PVC-based fabric, stains can be easily removed with a regular eraser.
During the repair of the room, it is better to roll up the fabric roller blinds to prevent contamination of the fabric web.
It should be added that heavily soiled old fabrics on roller blinds are not erased. In this case, the fabric is replaced with a new one.
=====================
What breaks in curtains and how to fix it.
Recommendations for the repair of roller blinds are considered in detail by us in the corresponding section of the website.
We also repair any kind of blinds and mosquito nets.
=====================
Here you can get advice on choosing curtains and place an order.
Photos of material categories of roller blinds can be viewed in the gallery in this section of our site.
Roller blinds with photo printing must be agreed individually. We will help you make the right layout and select the necessary material.
To get the cost of roller blinds, in addition to the size of the window, specify the name of the fabric, the type of system (open or closed) and the fixation (line or magnets).
Examples of our work can be seen on the regularly updated site on instagram.
Phones for consultation and calling the master (clickable):
Subscribe to our social media pages:
© 2016-2023